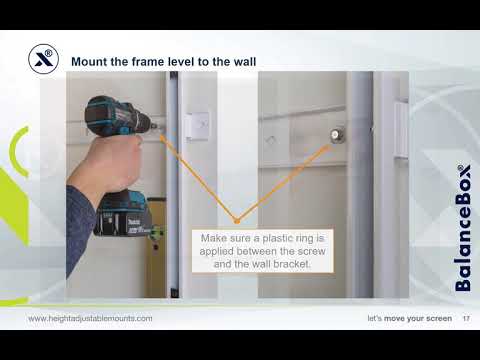 Floor Support 481A42001
The flat panel Floor Support for the BalanceBox® 400 enables the BalanceBox® 400 to be used when not having any supportive or studded walls. The floor support is mounted against the wall, which creates a stable base to mount the BalanceBox® 400 onto.
The distance between the studs of the flat panel floor support is 305mm (12"), 406mm (16") or 606mm (24"). In combination with the BalanceBox® 400, the flat panel floor support can carry a load capacity up to 225 kg (495) lbs.
Further product specifications:
Weight: 11,4 kg/ 25 lbs.
Dimensions (W x H x D): 650mm (25.6") x 2012mm (79.2") x 44mm (1.75")
Click here to download the Datasheet
Click here to download the Installation Manual or you can watch the instruction video here on the left.
For the installation video for the BalanceBox® go to our YouTube channel.
Why Height Adjustable Mounts