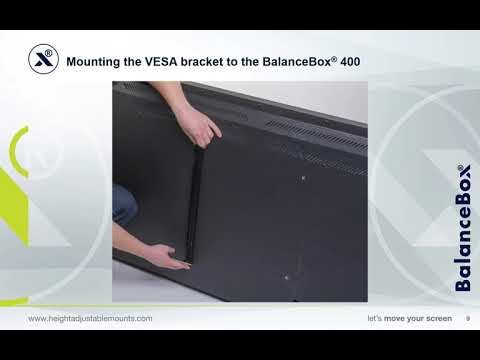 Flatscreen/vesa interface 481A21
The VESA interface is needed to mount the flat panel on the BalanceBox® 400. The VESA interface bracket is suitable for flat panels with a VESA connection up to 800 x 400 mm.
The VESA 481A21, is CE certified and UL listed and compatible with the BalanceBox® 400 and display solutions up to 86" with a weight of 95 kg (210 lbs).
Further product specifications:
Weight: 4,2 kg/ 9.25 lbs.
Dimensions (W x H x D): 860mm (33.85") x 599mm (23.6") x 30mm (1.18").

Click here to download the Datasheet
Click here to download the Installation Manual or you can watch the instruction video here on the left.
For the installation video for the BalanceBox® 400 go to our YouTube channel.
*BalanceBox 400 not included
Why Height Adjustable Mounts